RENT OFFICE SPACES.IN
---

office spaces for lease in Naman Mid-town - lower parel , commercial property in Naman Mid town for rent - find on Rent office spaces in Naman Midtown elephiston road / lower parel,Find office space for Rent in Mumbai ( Naman Mid town ) - UNIT OPTIONS AVAIABLE - CALL NOW IMMEDIATE DEAL ASSURED + 91 8108098760 Lease office space in lower parel glass facade commercial building lower parel mumbai next to one India bulls finance center having a grade infrastructure cool lobby ample car park space 24x7 top security - fast elevators - close to railway station ,small / large offices spaces on rent in Naman Midtown - mumbai rentofficespaces.in property site offers on rent commercial office spaces in Naman Midtown elephiston road lower parel , available unit sizes for lease / rent office spaces in Naman Midtown small / large offices South Mumbai
---
1250 sq ft office space for rent in Naman Midtown Lower Parel
office space for lease in Naman Midtown lower Parel ( elephiston road ), available on rent fully furnished office 1250 sq. ft. with 10 work station 2 cabins 1 conference room, reception area - washrooms UNIT OPTIONS AVAIABLE - CALL NOW IMMEDIATE DEAL ASSURED + 91 8108098760 Rs 235000/- monthly rentals + 6 months deposit This commercial building at lower parel / elephiston road has top of the line security and car park Facility with cool lobby food counters ATM super fast lifts Atm / Banks close by etc- Commercial property in Naman Mid-town Lower parel ,Rent office spaces in Naman Midtown elephiston road ( lower Parel ) - South Mumbai
---
2250 sq. ft. in Naman Midtown offices space for lease
unfurnished office space for lease in Naman Mid-town2250 sq ft bare shell in a glass faced building can be furnished on request Rent commercial office spaces in Naman Midtown lower Parel ( Elephiston Road ), new glass faced building close to railway station Rs 150 Per sq. ft. unfurnished - Rent office spaces in Naman Midtown elephiston road ( lower Parel ) - South Mumbai Commercial property in Naman Midtown Lower parel UNIT OPTIONS AVAIABLE - CALL NOW IMMEDIATE DEAL ASSURED + 91 8108098760
---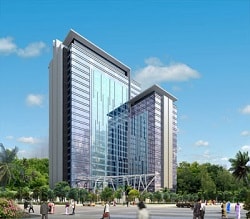 ---
The building structure is as follows:
Wing A consists of 2 Basements + Ground + 21 Upper Floors
Wing B consists of 2 Basements + Ground + 14 Upper Floors
Signature air conditioned entrance lobby
Meticulously planned flexible office spaces ranging from 719 sq. ft. to 17,812 sq. ft.
The building has Fine Dining Restaurant, Cafe and a well-equipped fitness center
Hi-End security systems
Clear ceiling height of 12 ft
Bare shell office spaces with 100% power backup
High speed elevators
Ample car parking facilities
Integrated building management system
located Senapati Bapat Marg, Alpines Road.
---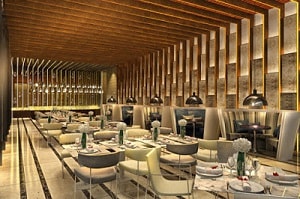 ---
Naman Amenities
Restaurant
Cafe
Well-equipped
health club and gymnasium facilities
Landscaping at the podium level
---
1850 sq ft office space / Commercial property for rent in Naman Midtown
1850 sq. ft. in office space for rent in Naman Midtown lower parel unfurnished Rent commercial office space in naman midtown elephiston road - glass faced building can be furnished on request Rs 170 Per sq. ft. unfurnished This commercial building at elephiston road / lower parel has top of the line security and car park Facility with cool lobby food counters ATM super fast lifts Atm / Banks close by etc - Rent office spaces in Naman Midtown elephiston road ( lower Parel ) - South Mumbai UNIT OPTIONS AVAIABLE - CALL NOW IMMEDIATE DEAL ASSURED + 91 8108098760
---
4350 sq ft Rent office spaces / commercials in Naman midtown
4350 bup area unfurnished office space for rent in Naman MId-town -lower parel -mumbai Rs 175 per sq ft This commercial building at lower parel Naman Midtown has top of the line security and car park Facility with cool lobby food counters ATM super fast lifts Atm / Banks close by etc Rent office spaces in Naman Midtown elephiston road ( lower Parel ) - South Mumbai UNIT OPTIONS AVAIABLE - CALL NOW IMMEDIATE DEAL ASSURED + 91 8108098760
---
850 sq ft Naman Midtown Lower parel
Rent commercial office spaces in Elephiston ( Elephiston Road ) Naman midtown 850 bup area carpet area 525 sq. ft. Rs 11000 /- office space for lease in Naman Midtown lower parel mumbai ,fully furnished located at Senapati Bapat Marg, Elephiston Road, - Rent office spaces in Naman Midtown elephiston road ( lower Parel ) - South Mumbai UNIT OPTIONS AVAIABLE - CALL NOW IMMEDIATE DEAL ASSURED + 91 8108098760
---
1650 sq ft office space on rent in Naman Midtown Lower Parle
fully furnished office plug n play in Naman midtown for lease in lower parel / Elephiston road , having 12 work stations 2 cabins 1 conference room , reception area , washroom , car park - this commercial office space is in a glass facade building next to one india bulls lower parel being very close to railway station have great advantage of training for western mumbai and center la mumbai - have a graded cool lobby restaurant 24 x 7 security - car park zone - much more filled with all modern amen ties in the commercial building in elephiston road mumbai south . UNIT OPTIONS AVAIABLE - CALL NOW IMMEDIATE DEAL ASSURED + 91 8108098760
Click Below Links :